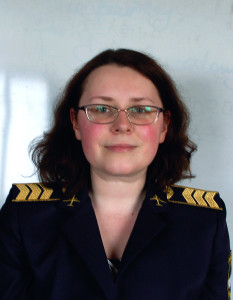 Korol Liliya – lecturer of Aviation English Department. She has finished Kyiv National Linguistic University and recieved a Master degree in philology, becoming a certified philologist, teacher of English and German. She has been working in the Department since graduation from university., thus having an overall teaching experience of four years.
Hobbies and interests: British culture, English discourse in computer videogames, fantasy and science fiction, web design.
Favourite authors: Strugatskie brothers, M. Bulgakov, M. Proust, Max Frei, Terry Prattchet etc. 
She can be contacted via social networks: http://vk.com/matroskina_li     https://www.facebook.com/leila.matroskina
Responsibilities: scientific seminars and conferences secretary, technical support for Department website.
e-mail: matroskina88@gmail.com