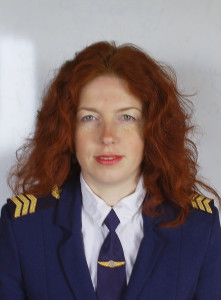 Nataliia Zelinska is a lecturer. She graduated from the Kyiv State Linguistic University, specialty "Language and Literature (English)" and received qualification of philologist, teacher of English language and literature. Her length of teaching experience is 17 years (including 7 years at the National Aviation University). In the past, she served as a lecturer in foreign languages ​​(renamed in 2006 to the Department of Modern European Languages) of the National University of the State Tax Service of Ukraine (7 years); lecturer of Foreign Languages ​​and Applied Linguistics Department of the Humanities Institute, NAU (6 years); from 2012 – lecturer in aviation English. The result of research working at the Department of Aviation English is part of the All-Ukrainian scientific conference of young scientists and students "Problems of navigation and air traffic management", November 2012 with the report on "Professional profile of the teacher aviation English." She was awarded a diploma by the director of the Institute of Air Navigation for the best report in the section "Professionally-oriented aviation English". She took part in the XI International Scientific Conference "AVIA-2013" in May 2013 (thesis on the topic «International significance of ICAO alphabet for flight safety»). During the time of working at the National Aviation University the lecturer and her students attended various exhibitions, museums and theaters of Kyiv. The scope of educational activities in recent years includes teaching subjects such as: "Foreign language for professional purposes", "Business English", "Foreign Language" and "Aviation English".
Research interests: psycholinguistics, aviation English.
Hobbies: psychology, socionics, art
Instructions at the Department: N. Zelinska is responsible for QMS at the Department, Technical Secretary prepare publications Bulletin of NAU, heading "Professional Education".
e-mail: zelinska@gmail.com